Vehicle Multifunction GPS-GPRS Monitoring /
GuardMagic VB2 in system
GuardMagic VB2 compact vehicle GPS/ GSM-GPRS module with logical inputs, driver identification and fuel monitoring function for remote supervision of mobile objects movement (vehicle, special machinery etc.) and vehicle status.
(
GuardMagic VB2 modules support universal communication protocol
that's allow to have different GuardMagic modules with different functionality in one system).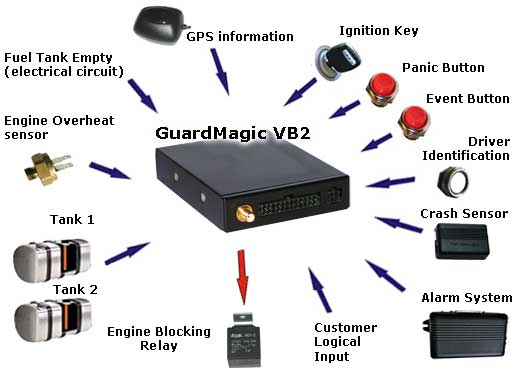 GuardMagic VB2 connection:
Main power supply (DC power 12/24 V);

Reserve external battery (12V);

GPS antenna-receiver (from complete set);

Ignition circuit;

Up to TWO analog fuel level sensors;

Driver identification reader;

"PANIC" (SOS) Button;

"EVENT" Button;

Car (Vehicle) alarm system;

"Engine Overheat" circuit (overheat sensor);

Crash sensor (one or three levels);

Fuel Tank empty circuit;

Customer logical sensor;

Engine start blocking relay.
GuardMagic VB2 provides to immediate transmitting or storing in internal non-volatile memory and posterior transmitting the following information:
GPS track of transport (geographical coordinates);

GPS parameters of movement (speed, time);

Fuel level in fuel tank (Fuel history up to two tanks)*;

Active driver identification number (Driver ID)*;

Panic signal;

Engine overheat*;

Road accident*;

Car Alarm activation*;

Attempt to theft;

Engine status;

Fuel Tank Empty;

Status of external logical circuits (logical input, "Event Button").