Introduction to Application
GPS vehicle tracking system (GPS monitoring) is an electronic device installed in a vehicle to enable the owner or a third party to track the vehicle's location (and also receive the additional information about vehicle).
GPS monitoring systems also combine a communications component such as cellular or radio transmitters to communicate the vehicle's location to a remote user. Vehicle information can be viewed on electronic maps by the specialized monitoring software.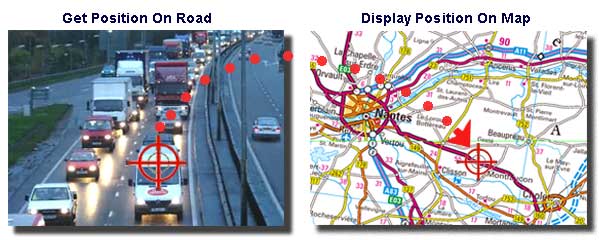 Current vehicle tracking systems have their roots in the shipping industry. Corporations with large fleets of vehicles required some sort of system to determine where each vehicle was at any given time. Vehicle tracking systems can now also be found in consumers vehicles as a theft prevention and retrieval device. Police can follow the signal emitted by the tracking system to locate a stolen vehicle.
Many vehicle tracking systems are now using or a form of automatic vehicle location (AVL) to allow for easy location of the vehicle.
The GPS satellite system was built and is maintained by government and is available at no any cost to civilians.
Active versus passive tracking
Several types of Vehicle Tracking devices exist. Typically they are classified as Passive (also named ""Off-Line") and Active ("On-Line" or "Real Time" named).
Passive devices store GPS location, speed, heading and others main information like Fuel level in fuel tank, event such as key on/off, door open/closed etc.. Once the vehicle returns to a predetermined point, the device is removed and the data downloaded to a computer for evaluation.
Active transmit the data in real-time via cellular or radio networks to a computer or data center for evaluation. Some devices also can collect the same information.
Common uses
GPS Vehicle Tracking Systems (GPS vehicle monitoring) are commonly used by fleet operators for fleet management functions such as routing, dispatch, on-board information and security.
Other applications include monitoring driving behavior, such as an employer of an employee, or a parent with a teen driver.
GPS Vehicle monitoring systems are also popular in consumer vehicles as a theft prevention and retrieval device. Police can simply follow the signal emitted by the tracking system and locate the stolen vehicle. When used as a security system, a Vehicle Tracking System may serve as either an addition to or replacement or adding a traditional Car alarm.
Some Vehicle Monitoring Systems integrate several security systems, for example by sending an automatic alert to a phone or email if an alarm is triggered or the vehicle is moved without authorization.
Major markets
Vehicle Tracking can be used in the following scenarios:
Fleet Management: When managing a fleet of vehicles, knowing the real-time location of all drivers allows management to meet customer needs more efficiently. Whether it is delivery, service or other multi-vehicle enterprises, drivers now only need a mobile phone with telephony or Internet connection to be inexpensively tracked by and dispatched efficiently. Asset Tracking: Companies needing to track valuable assets for insurance or other monitoring purposes can now plot the real-time asset location on a map and closely monitor movement and operating status.

Field Service Management: Companies with a field service workforce for services such as repair or maintenance, must be able to plan field workers' time, schedule subsequent customer visits and be able to operate these departments efficiently. Vehicle tracking allows companies to quickly locate a field engineer and dispatch the closest one to meet a new customer request or provide site arrival information.

Stolen Vehicle Recovery: Both consumer and commercial vehicles can be outfitted GPS with cellular transmitter to allow police to do tracking and recovery.

Trailer Tracking: Haulage and Logistics companies often operate lorries with detachable load carrying units. The part of the vehicle that drives the load is know as the cab and the load carrying unit is known as the trailer. There are different types of trailer used for different applications, e.g. flat bed, refrigerated, curtain sider, box container.
Major application and targeting: