GPS "Off-Line" monitoring system is the most inexpensive and effective solution to make a full control of your vehicles and / or your fleet: routs, movements, fuel consumption, drivers working time etc.

A special device GPS Data Logger (GPS "Black Box") is mounted on a vehicle.

This GPS Data Logger stores in it's internal memory all necessary information about vehicle location (Geographical Coordinates), movement characteristics (vehicle speed) and other important information, for example, fuel level in tanks, motor speed, temperature, status of ignition circuit, door status and so on.

On return to destination point, the information, stored in GPS Data Logger (GPS "Black Box"), is transferred to "transportation USB Flash Drive" for the later downloaded to personal computer for analyze.

GPS "Off-line" vehicle monitoring can be use to monitor any type of motor vehicle, tractors, bulldozers, loaders, structural and agricultural techniques.
The collected information thereafter is automatically analyzed in personal computer by special software, that generates the series of vehicle activity reports, characterizing the work of a whole fleet, separate vehicle, operating crew and so on.

On necessity it is possible to monitor vehicle tracks on electronic maps.


"Off-Line" System in General

"Off-Line" monitoring system are based on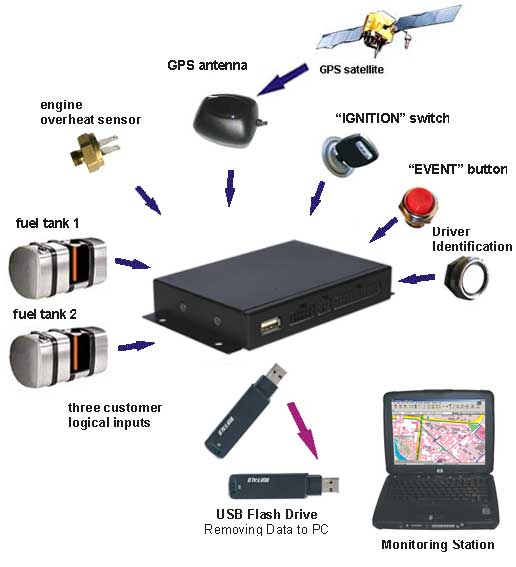 Space Fragment

GPS satellite sends the special signals that received by GPS receiver.

Based on received signal the GPS receiver calculate it own location (geographical coordinates).

This satellite GPS signal covers entire world.

These signals are absolutely FREE.

There is not any charge!

Vehicle Modules
Special vehicle GuardMagic modules (GuardMagic mTF1, GuardMagic mTF2,

GuardMagic mTF3), that consist of:

GPS receiver,
internal memory,
microcontroller board.

based on satellite GPS signal GuardMagic calculate its location

(

coordinates of vehicle) and store it in internal memory.

In their internal memory also is stored additional information like: parameters of movement, date-time, information from external sensors, fuel level in tank etc..

Once the vehicle returns to a predetermined point, to device connect "USB Flash Drive" and copy data from internal memory to this "transport USB Flash Drive.

Later from this USB Flash Drive data downloaded to a computer for evaluation.

Monitoring Station

PC based computer with special software.

(

Software: SmartTracer).